SOUTH AFRICAN GUERNSEYS ARE IMPRESSIVE
There are some very interesting and high quality Guernsey herds in South Africa. Guernseys adapt well to the varying climatic conditions and farming systems.
From irrigated pastures to what many would describe as near desert conditions Guernseys thrive and produce well.
One of the best managed and most productive herds is found in Prins Albert, a small town at the foot of the Swartberg Pass in the Little Karoo, the Cape hinterland. Gay's Guernsey Dairy not only has some of the finest Guernseys in the country, it has also won many major South African and international awards for its its high quality cheeses all made from unpasteurised milk and guaranteed free from hormones, antibiotics, colouring and preservatives. The dairy, which is owned by Gay van Hasselt, also sells milk, amasi*, fat free yoghurts and feta cheese.
In Gay's Guernsey Dairy cheese room you can taste cheeses whose name reflect the local heritage:
Prince Albert royal. Prince Albert Regal and Queen Victoria.
The Shangrila Guernsey Herd owned by Gay van Hasselt supplies the dairy with high quality milk. A visit to the milking parlour is an education in itself. Staff are highly trained in every aspect of cow management with hygene and attention to detail clearly evident. The herd boasts some of the finest Guernsey genetics.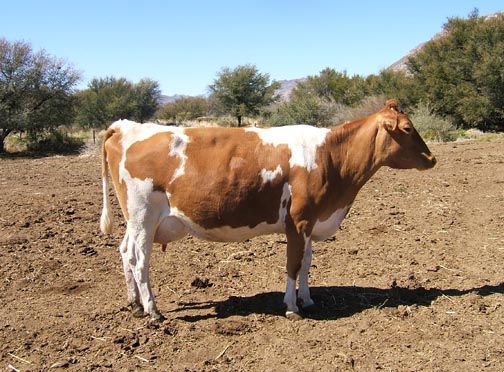 SHANGRILA LEWIS' EMILY 
Sire: TROTACRE ENHANCER LEWIS-ET
South African Breeding Value: +762M +26.0F +26.4P -0.16%F 0.00%P 
      
*AMASI or MAAS
Amasi is a traditional fermented (sour) milk drink of the indigenous people of South Africa.
Amasi is also known as "maas", which is believed to come from the Zulu name for sour milk, 'amaswi'. This product is traditionally made in clay pots and calabashes. Milk is added to the container at regular intervals. The bacteria on the surface of the container serve as a starter culture.
In modern processing maas is refered to as "cultured milk". A freeze-dried culture is added to the milk and then fermented "soured" until it reaches a certain level of acidity (sourness). Maas has a smooth texture and a slightly sour taste. Full cream milk is used to make amasi.
As with all other dairy products, amasi is very healthy. It is packed with vitamin A and proteins that the body needs to function well and stay healthy. The fat content makes it a very effective way to enrich any eating plan. It is also very effective against infections and can be applied to a wound or infected area to relieve itching and thrush.
Amasi is packed with carbohydrates and is a superb energy drink for athletes. Over weight people should drink low fat amasi.
Amasi can be drunk plain or with added sugar or fruit juice. It can also be mixed with mashed potato.